Graduate School Programs
In our graduate school, we carry out theoretical and applied research. Our goal is for graduates to reach the high level of specialized knowledge necessary for professional endeavors through in-depth academic studies. Moreover, we hope that graduates will be able to make great contributions to society and reach their full potential as individuals.
Graduate Programs in Home Economics
Graduates carry out academic research activities related to human life from the viewpoint of home economics. By examining a wide range of issues related to humanities and natural sciences, they develop into graduates who can utilize their advanced knowledge as researchers, academics, and generalists.
We offer master's courses in Textile and Clothing Science and Food Science and Nutrition; we have added Architectural Design and Child Studies since 2011. We offer doctorate programs in Human Life Studies (both theoretical and applied). Both master's and doctorate programs are coeducational.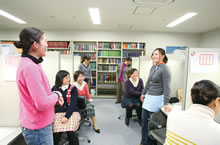 Graduate Programs in Arts and Letters
MA courses are available in Japanese Literature, English Literature, and Performing Arts. The programs aim to build upon the knowledge acquired in the undergraduate courses in order to achieve more specialized expertise. Furthermore, one can study from a wide range of related fields, enabling graduates to acquire integrated and synthesized knowledge in their chosen field.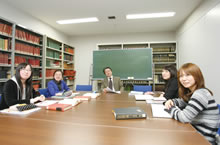 Graduate Programs in International Studies
In the Graduate School of International Studies, students examine various cultures and societies from different perspectives, including Japanese studies, Chinese studies, European studies, and American studies. They also study political and economic relations and international cooperation on a global level. We hope that, on completing their studies, graduates will make meaningful contributions toward intercultural understanding and development via international organizations such as multinational corporations or non-profit institutions.
Graduate Programs in Nursing
Established in April 2013, the Kyoritsu Women's University's Faculty of Nursing saw its first group of students graduate in March 2017. The bachelor's program makes use of the features of the Faculty of Nursing, which specializes in nursing education. Through this program, we have worked to cultivate basic skills of the nursing practice, as well as the ability to explore issues at the bachelor's level and develop expertise in the nursing practice, and we have dedicated ourselves to nurturing students who are highly capable and geared toward self-improvement.
In light of these four years of achievements, Kyoritsu Women's University established the Graduate School of Nursing in April 2017, which offers a master's program in nursing studies. This program aims to cultivate graduates with the practical nursing and research skills required in an era of community-based integrated care.
Taking advantage of our location, we have an entrance examination system and class schedules that make it easy for working adults to learn, enabling students to attend school as they work. The graduate school is coeducational.