Greetings from the Director
Greetings from the Director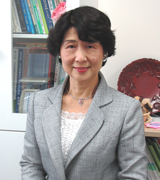 Kazuyo Kusaka
Director
Department of Nursing
Kyoritsu Women's University
The guiding principles Kyoritsu Women's University has upheld in the years since its founding encourage students to pursue an education to fundamentally shape the way they develop as people and a professional career upon which to strive for social independence. These two concepts form the core philosophy of the Faculty of Nursing. In order to assist students in cultivating the spirit and mentality required for nursing, the faculty draws on the university's long history as a women's university to offer a diverse program of general education courses that is one of the foremost among educational institutions in the field of nursing in Japan.
The lectures, practical seminars, and training in nursing create a cutting-edge curriculum that reflects the ongoing advances and globalization of medical science.  In addition to a comprehensive lecture program covering each area of nursing, practical seminars  incorporate activities such as simulation exercises using mannequins and opportunities to listen to the experiences of patients, allowing students to develop an understanding of patients that they can apply to their work in the field of nursing.  Students also have a wide choice of elective courses for developing further specialized knowledge and skills to support  them in shaping their future career paths and research. Such lectures and courses form a specialized, effective, and highly appealing curriculum for the study of nursing.
Practical training is offered at Mitsui Memorial Hospital and numerous other high-level hospitals and university hospitals in Tokyo. By experiencing practical training at a number of teaching hospitals, students acquire an extensive understanding of medical care environments. They foster their understanding of the diversity of nursing and gain insights on employment by working with various mentors, such that all students are not only able to find employment but also to make well-informed choices regarding their future career path.
The appeal of the Kyoritsu Women's University Faculty of Nursing lies in its ideal campus environment in the heart of Tokyo and its rich, state-of-the-art curriculum.